I'm coming to you today to share one of the best websites on the planet.
I have absolutely fallen in love with PaperBackSwap, and I'll tell you why.
*disclaimer: if you follow any of my links to PBS and sign-up using my username (handsnotfull) I will receive one credit when you complete your registration by adding 10 books for trade*
With PaperBackSwap I can share the books we no longer need. Books collect a lot of dust and take up a lot of space, space that I don't have. And have you ever tried to move with a library of 1,500 books?
But what's in it for me? Well, when I share the books we no longer need I earn credit to spend on books that we want! What is better than that?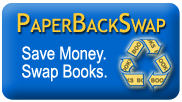 1. Sign up for an account by clicking here
2. Earn 2 credits by listing 10 books available for trade. One credit equals one book!
3. You'll get a notification on PBS and in your email if your book is matched with someone else. Follow the instructions to accept the trade. PBS tells you how to mail the book, you can even print out media rate postage to save yourself a trip to the post office!
For each book you mail to someone else you earn 1 credit to spend on a book you want!
If you buy postage through PBS you will receive a credit when you mark the book as mailed. If you decide to take the book to the post office you'll receive a credit when the recipient marks the books as received.
You do have to pay postage when you ship a book but in return someone else will ship a book to you! Only the person mailing the book pays shipping.
4. Pick the books you want, one credit will get you one book! Simply browse the website to find a book you want, and if it's available click "order this book". The person who has the book will then accept the order and mail it to you.
Super trader tips:
-Use the wish list! If the book you want isn't listed you can put it on your wish list! When someone offers the book PBS automatically offers it to the people who have it on their wish list.
-Check your ISBN! If you can't find the book check to see if it has mulitple ISBNs. Many books, especially books for kids, have several ISBNs. The easiest way to do this is to go to Amazon.com and search for the book. Check the ISBN of each version of the book and make sure to search for and add each ISBN to your wish list!
-Earn more credits by referring friends! You earn one credit (one free book!)
-Set your book requirements! Allergic to cats? Tired of finding used books with water damage? You can set up requirements that all traders must follow. If your book is matched with a trader they will have to verify that it meets your required conditions before they send it. Just remember to word your request nicely so your trader doesn't get offended!
Are you new to homeschooling? Check out the eBook I wrote, Begin Homeschooling with Confidence!